Mold Removal Lolo
911 Restoration Missoula is dedicated to providing fresh starts to homeowners in Montana. You can always turn to our mold removal Lolo professionals for quality mold removal and water damage repair.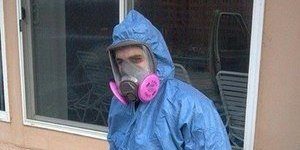 Our Lolo mold removal technicians are trained, equipped, and available 24/7/365 to provide you with the helping hand you need to get your home free of all mold, fungus and mildew.
Our team has many years of experience in dealing with various types of mold infestations.
We know that mold growth in most cases is due to a water damage situation like a pipe burst or a leak. When water stagnates for months, it can create the moist environment in which mold needs to thrive.
We know how urgently you're going to need assistance whenever water-related problems occur, so when you call the Lolo water damage restoration crew, you can expect that our team will be there within 45 minutes.
We always conduct a free home inspection once we arrive on the scene. This will help us look for the source of the mold and  get a great grasp on the extent of the issue.
We'll be looking for signs of mold growth such as cracked drywalls, discolored walls or ceilings and foul moldy odors. If you're feeling any allergic reactions like skin irritation and asthma, we'll also be taking that into account.
Call our mold removal Lolo techs with 911 Restoration Missoula and we will everything needed to get your home dry and clean again in no time today!
Providing You With Mold Remediation And A Fresh Start
Our IICRC certified Lolo mold eradication experts have the equipment ready to ensure that your home gets back to being safe and comfortable for you and your family.
Some things to consider about mold:
Once mold is discovered, the sooner it's removed the better off your home will be in the long run.
We've undergone rigorous training to ensure that our restorations and mold remediation services are reliable, thorough, and industry-leading.
Once our Lolo fungus extraction technicians team arrives, we'll explain every step of the process to you for complete transparency.
We'll be surrounding the affected areas of your home with antibacterial plastic and create an enclosed environment to clear the area effectively of moisture and prevent mold from spreading any further.
Our licensed, insured, and bonded team will also be equipped with hazmat suits so we can work on resolving the fungal issue safely.
The mold infested areas of your home will be replaced with sterile components that will reduce the chances of further mold growth in the future.
When you contact our mold removal Lolo team with 911 Restoration Missoula you can rest easy knowing our Lolo fungus removal specialists will provide quality remediation services, so give us a call today!
Preventing Mold Growth In Your Home
Our Lolo mold mitigation professionals know that the best way for homeowners to avoid mold growth within their home is by having water damage repaired right away.

When you experience a flood, leak or any other type of water disaster, you can be sure that we will administer same day services, so you never have to wait long for help.
It is always important to maintain your home, especially during the rainy seasons because these are some of the more common months to expect water damage which causes mold growth.
By having the Lolo fungus remediation agents come inspect your property, you can be sure that we will help us patch up any leak, check for all signs of mold and mildew, and make any repairs necessary to make your home looking better than new.
Call our mold removal Lolo technicians with 911 Restoration Missoula to provide quick, efficient mold removal services, so you can get the fresh start you deserve today!