Mold Removal Missoula
911 Restoration Missoula provides 24/7/365 mold removal support to the community we hold dear by delivering folks a fresh start attitude.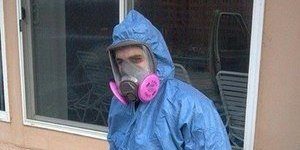 The fresh start attitude is the belief that second chances belong to everyone who needs them.
It is a promise that the mold removal Missoula team makes that means things will be better, and we always fulfill our promises.
Homeowners that encounter mold should know that 911 Restoration is a company that values itself in bringing people back strength through support.
If you discover mold in your home, give our licensed, insured, and bonded team a ring.
Our mold removal Missoula technicians with 911 Restoration Missoula will respond within 45 minutes and provide same day service the mold removal Missoula team brings in case of emergencies is a how we guarantee homeowners that we will guide them through to a fresher tomorrow, so give us a call today!
When Mold Remediation Is Necessary
First, we like to establish that mold spores are everywhere, which is fine. It's when mold activates and starts to form a colony that is begins to become an issue.
Some important things to know about mold and mold removal restorations:
A mold infestation will kick spores out into the air, and when there is too much it causes an immunological response. Symptoms include exacerbated allergies. It is a nuisance, and you deserve to live your life with as little inconvenience as possible.
On top of that, there are only a small amount of molds out there that pose a serious health issue, regardless, being on the safe side—as your health is our main priority, call us if you suspect mold.
Furthermore, when mold grows, it eats away at organic material such as sheetrock and wood. This can cause expensive repairs, and instability in your home.
We recommend checking your home often for mold spores in areas prone to excessive moisture or that are regularly filled with humid air.
Follow your nose, if you find strange smells in areas prone to dampness, then do a little investigation.
Our mold removal Missoula experts at 911 Restoration are completely dedicated to bringing stability back into your life, so give our mold removal Missoula team a call to breathe free again today!
Breathing Free After Mold Removal

On a summer day, while cleaning, a Missoula customer discovered crumbling drywall along her glass door frame. Concerned about the possibility of water damage she called the experts at 911 Restoration Missoula.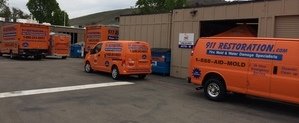 When our IICRC certified team arrived they knew how to look for the causes of the crumbling sheet rock.
They used their infrared camera to peek inside for humidity. The camera works by displaying heat as bright red  and cool spots as blue. Thus, they were able to see a lot of blue areas, which suggested that there was evaporation occurring.
Our mold removal Missoula team carefully lined the effected room with plastic to ensure that any mold removed from the area remained in the area. Moreover, we set up a closed air system to the wall  that cycled air and dried the space.
Afterwards, the restoration process involved sanitizing the studs behind the wall with caustic chemicals that penetrate surfaces. See, mold thrives in porous material, so in order to rid the area of mold completely and safely, a trained professional needs to be able to sanitize the area.
The team replaced the sheetrock with new sterile materials, and then painted over it with antimicrobial count that would keep fungus from growing.
It was happy ending for our customer, and if you're in need of fast professional help like she was, call us at 911 Restoration Missoula. Your worries are a thing of the past when you're with us, so give our mold removal Missoula team a call today!
Serving the communities of Arlee, Bigfork, Bonner, Corvallis, Hail, Hamilton, Victor, Pinesdale, Stevvensville and surrounding areas.