Mold Removal Clinton
In order to make sure that every trace of fungus is accounted for and cleared out, you are going to want to call the mold removal Clinton pros at 911 Restoration Missoula right away.
We know how important it is to act fast when it comes to mold remediation, especially because of the problems it can potentially cause:
Structure damage
Rot


Musty smell

Unappealing look

Headaches

Coughing

Sneezing

Rashes

Breathing issues
When homeowners discover water damage in their home, they should know that mold is usually a bi-product of that invading moisture.
We keep our offices open 24/7/365, where service agents are standing by to dispatch Clinton mold eradication crews immediately, getting them to your door within 45 minutes.
When you call our mold removal Clinton team with 911 Restoration Missoula, you can be sure you are getting the most competent mold removal services in the business, so give us a shout today!
Water Damage Usually Leads To A Mold Infestation
After you have experienced a flood in your home, whether it was caused by a storm, pipe burst or plumbing leak, you should call the Clinton mold mitigation specialists so we can implement same day services to get your home dry.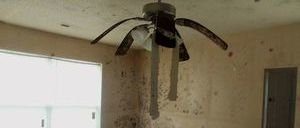 It is necessary to use advanced water extraction and drying machinery to get every drop of moisture out of your home, that way the mold spores have nothing to live off of.
Our Clinton fungus extraction team has many years in the home restoration industry where they deal with mold infestations on a regular basis.
Mold thrives in damp conditions, so by removing that moisture, we disrupt its living conditions and make it impossible for the fungus to thrive.
We use comprehensive remediation techniques to get your home back into pristine condition, so call the mold removal Clinton agents with 911 Restoration Missoula we will do all we can to give you a fresh start today!
We Know How To Protect You Against The Health Effects Of Mold
Mold reproduces through mold spores, which are transferred throughout the home by air currents. When you inhale these spores, they can cause you to experience health issues, usually similar to allergy-like symptoms.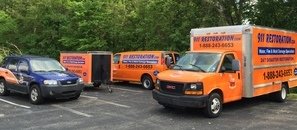 Sometimes you can actually feel these effects of mold before you see it growing on the surfaces of the home.
When these symptoms occur, you should call the Clinton mold remediation experts so they can come and give you a free home inspection.
Once we get in the property and check all the hard-to-reach places, such as behind walls, inside crawlspaces and under floorboards, we will understand the scope of the damage.
Our Clinton fungus removal technicians will then use top-of-the-line equipment to remove every trace of mold and get your home looking and smelling clean again.
Call our mold removal Clinton team with 911 Restoration Missoula and we will make sure your home is the safe, healthy environment you and your family deserves today!