Water Damage Stevensville
When it comes to solving the vast array of challenges presented by an ice dam situation, there is no one more trusted, capable, and prepared than 911 Restoration Missoula owner Will Reed, or his water damage Stevensville team for the job.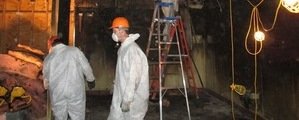 Eliminating the effects of a water damage scenario requires a rapid response and this is why Will and the water damage Stevensville team can arrive within 45 minutes of a distress call for help.
"My crew and I are completely mobilized for all types of restoration work and we can be anywhere at any time," Will says. "My team and I are available 24/7/365 for any challenge that springs up in a home or business."
In addition to being at the scene of the damages quickly and at any time they occur, Will and his water damage Stevensville crew also make sure to bring the latest drying technology to each job they work on, and with the most advanced water extraction equipment, there is no project too big to stop them.
"We can handle anything for people," Will explains. "And we always make sure to put the customer's needs as the highest priority on every project that we take on."
Don't let a pipe burst, ice dam, or water heater loss affect your lovely house when you least expect it. Contact Will and the water damage Stevensville team with 911 Restoration Missoula and get everything solved by the best in the business today!
Water Damage Prevention Advice from the Experts
Will and his water damage Stevensville crew know all there is to about the best ways to take on the challenges of a water invasion from any source, but they are also highly capable of helping people to avoid such situations in the first place too.
"A few times a day my staff and I will get calls from people who only want to know what they can do to keep their property safe from the harm of extreme weather or just wear and tear of their property," Will says. "And that is why we set down and created a list of all the ways that people can do simple maintenance jobs themselves that will go a long way in preventing water damage in their home or business."
Try to trim the trees around your property for any limbs that are dead and in danger of falling onto your roof or home. These can cut right through the roof and then allow water and water damage to erupt on the inside.
Never let the room temperature drop below freezing as this can cause a pipe burst to occur in short order. A pipe burst tends to happen when people aren't home because of letting the temperature dip to save on heating, and because of this a pipe burst can cause huge amounts of damage that go unnoticed for some time.
Make sure you check the fittings, connectors, hoses and any other parts that experience wear and tear on your water-based appliances. These can go years without having any problems, and then a rupture can occur while you are doing something else and cause mass water damage.
Check your sump pumps once a year to make sure that they are in perfect working condition. If a sump pump goes out while there is a major storm, this can allow enormous amounts of water damage from flooding to occur in your home.
"We try and help people through any and all situations, and that is why we create this list," Will explains. "But these are only the most common sources, and if homeowners have questions that aren't mentioned here, they should feel free to give us a ring and find out more."
Frozen AC Roof Unit Causes Water Damage Ceiling Leak
Will and the water damage Stevensville team have seen all the various forms and causes of water damage in their time, and that is how they were so prepared for solving the challenge presented by a frozen AC roof unit and the ceiling leak that it was causing.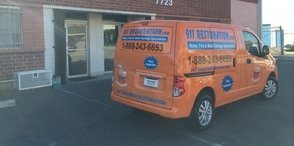 "We knew that when we got the call from the homeowner about the ceiling leak, that there were only a few potential causes," Will says. "Then when we got to the home and inspected the attic, we noticed that the AC unit was a block of ice dripping into the house."
The piping for the unit was undamaged, but the sealant that kept the unit separated with a water tight barrier from the outside elements was cracked and ineffective. That was allowing melting ice water to drip inside and then into the ceiling of the floor below the attic.
"We got straight to work chipping away the ice barrier of the AC unit, and then we cleared away all of the old sealant on the roof and replaced it with a kind that can handle extreme temperatures," Will says. "That made it so the meltwater wouldn't drip into the house anymore, and after that we began restoring the interior."
Will and his team even helped out with all of the insurance paperwork challenges presented by this job for the homeowner so that their plate wasn't too full.
Don't let a frozen AC unit, ice dam, pipe burst or any other means of water invasion adversely affect your property. Contact Will and the water damage Stevensville team with 911 Restoration Missoula and get all of these issues solved today!